fruit juice stickpack machine
fruit juice stickpack machine
This machine is suitable for packing powder products and granular products.For powder products,such as milk powder, bean milk powder , medicines powder, pesticide powder, coffee powder flavoring powder and so on.For granular products,such as food products (biscuits, dried short pasta,sweets, coffee grains, chocolates,tea,snacks,grated cheese, rice, spices,legumes, dried fruit, pet food, baking products)
and non food products.(small bolts and nuts, electrical and hydraulic parts, metal and plastic small parts, etc.) It has single lane,4 lanes,6 lanes,8 lanes and more .


PRODUCT DETAIL

PACKAGE PROCESS

PRODUCT APPLICATION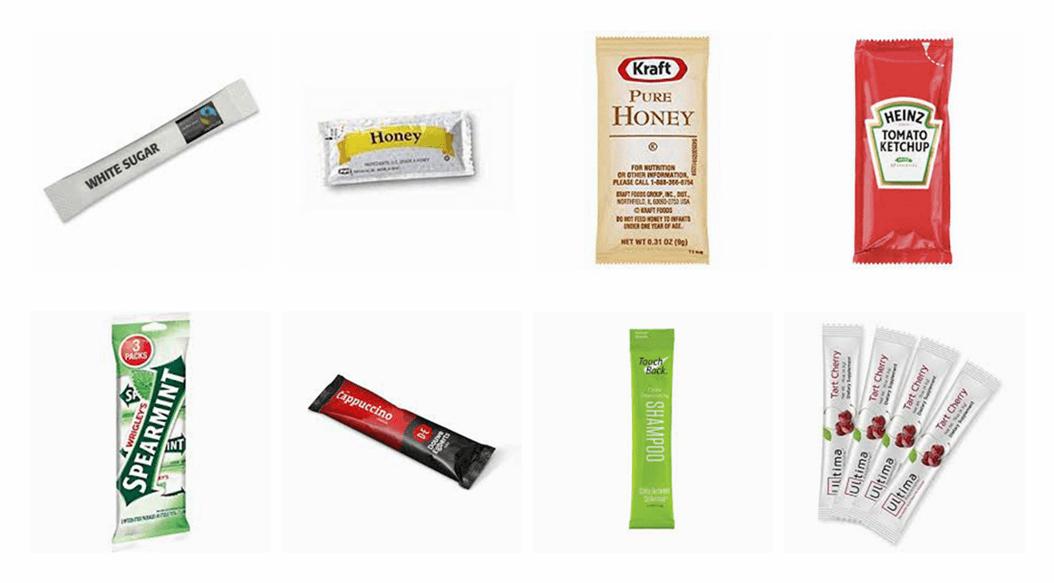 1. Efficient: Bag - making, filling, sealing, cutting, heating, date / lot number achieved in one time;
2. Intelligent: Packing speed and bag length can be set through the screen without part changes;
3. Profession: Independent temperature controller with heat balance enables different packing materials;
4. Characteristic: Automatic stop function, with safe operation and saving the film;
5. Convenient: Low loss, labor saving, easy for operation and maintenance.
6.It used for liquid fruit juice stick packing machine,such as vffs Vertical Multi Lane fruit juice stick Packing/Packaging machine.
7.Multi-lines packing machine adopted advanced PLC and photoelectric control system. You can choice single lane,2 lanes,4 lanes,6 lanes,8 lanes,10 lanes,12 lanes Automatic fruit juice stick Sachet Stick Packaging Machine and more.


Auto Film-aligning System
Automatically align film position during machine operation,avoid the problem of pouch sealing misalignment.
Servo pouch-pulling system
1、Easy Computerized Specification change
2、Stable pouch pulling with less deviation
3、Large torquemoment qualified for full-load running
Multi-lane Filling
1、Multi-lane filling make huge improvement to packing speed and capacity
2、Accurate filling,less deviation
Electrical and Pneumatic Components:
Please specify, if you require specified vendor to electrical and pneumatic components. If not, we will use our default vendor. You may ask us for our default vendor list.
Please note that cost may increase, if specified vendor is selected.

| | |
| --- | --- |
| Main Components | Vendor |
| PLC | Allan Bradley USA/Siemens/Mitsubishi |
| Touch Screen | Allan Bradley USA/Siemens/Mitsubishi |
| Inverter | Siemens/Mitsubishi Japan |
| Servo Motor | Siemens/Panasonic Japan |
| Photocell | Autonics Korea |
| Main Motor | ABB Switzerland |
| Pneumatic Parts | Festo German/SMC/CAMOZZ |
| Vacuum Generator | Festo German/SMC/CAMOZZ |
Date code printer

Straight Line Cut with easy tear

Hole punching device

Auger screw Filler(for powder)

Volumetric Cup Filler(for granule)

Electrical Gear Pump(for liquid)

Piston Pump(for liquid or cream)

Used for packing, such as honey,tomato paste, ketchup, sauce, shampoo, hair conditioner, jelly bar, fruit jam,yoghurt, facial cream, liquid chocolate, ice cream paste etc.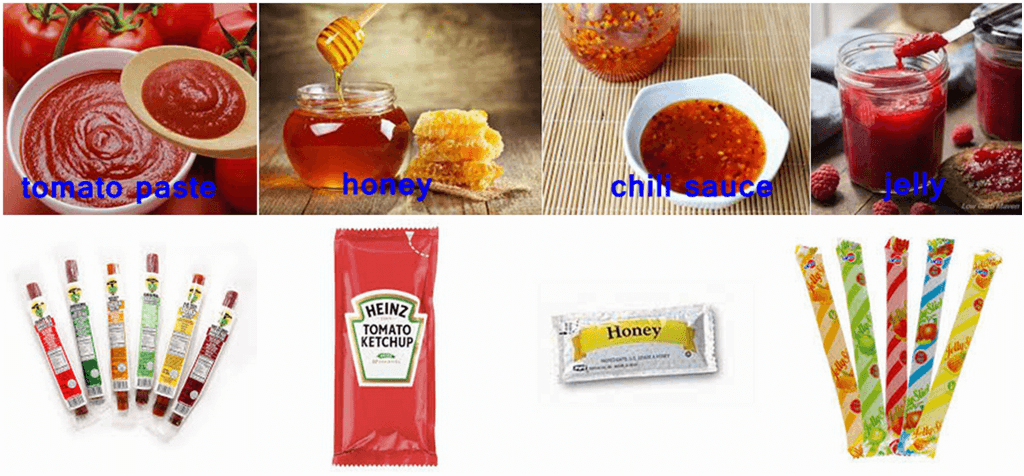 Feedback form contact with us