Horizontal Premade Bag Pouch Packing Machine
Horizontal Premade Bag Pouch Packing Machine
BHP SERIES Packing Machine is an new designed packing machine special for pre-made bags. It's used for filling and sealing stand-up bag, flat bag, hung-hole bag and shape bag. With different filling device, it can fill and pack all kinds of procucts like powder, liquid, granule, paste, solid etc. Now our machine widely applied in food, beverage, pharmaceutical, daily chemical and other industries.
On this machine, filling and sealing are two separated system. They will be integrated by PLC, so you can adjust it according to material, bag shape and size to make it compatible for fully automatic production line.



PRODUCT DETAIL

PACKAGE PROCESS

PRODUCT APPLICATION
| | | | | |
| --- | --- | --- | --- | --- |
| Model | Pouch width | Pouch length | Filling capacity | Speed |
| BHP-180 | 60-180mm | 80-225mm | 400ml | 60-80ppm |
| BHP-180D | 60-180mm | 90-225mm | 400ml | 120-160ppm |
| BHP-210 | 90-210mm | 110-300mm | 1200ml | 40-60ppm |
| BHP-240 | 100-240mm | 120-320mm | 1500ml | 40-60ppm |
| BHP-210Z | 90-210mm | 110-300mm | 1200ml | 40-60ppm |
| BHP-240Z | 100-240mm | 120-320mm | 1500ml | 40-60ppm |
| BHP-280DZ | 90-140mm | 110-260mm | 800ml | 90-120ppm |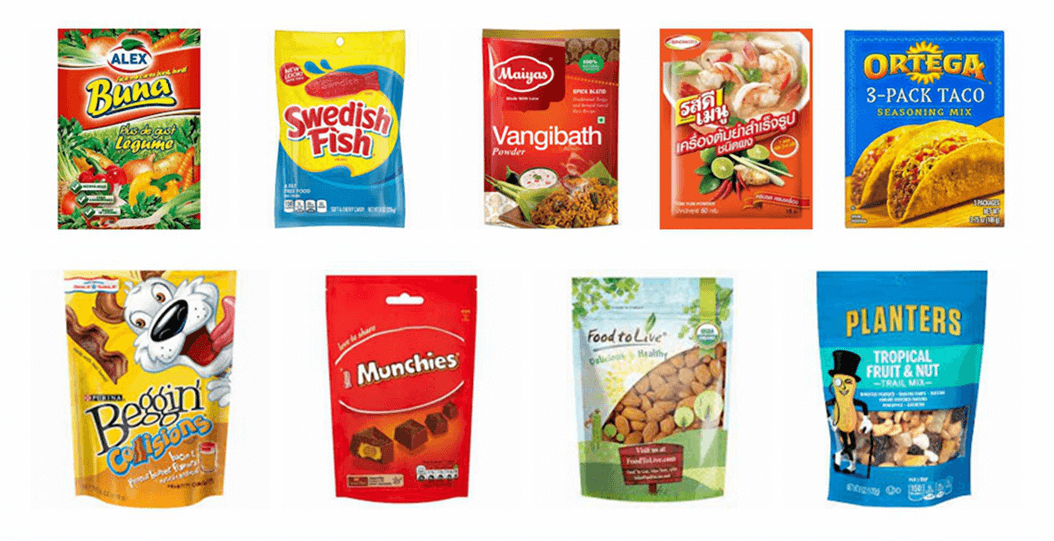 Widely used in a variety of pre-made bags, stand-up bags, three-side sealing bags and four-side sealing bags
1.Easy to operate:plc control, smart interface, low error rate
2.Easy to adjust:only takes 10 minutes to adjust the different bags change time
3.High automation:this system can realize automatic weighing, bag opening, filling, printing and sealing, saving time and effort


Independent film unwind unit
1、Ensure good control of film tensile force
2、More flexible for film roll width or pouch specification
3、Better pack forming
Dual filling station
1、Reduce filling time by half
2、Improved filling accuracy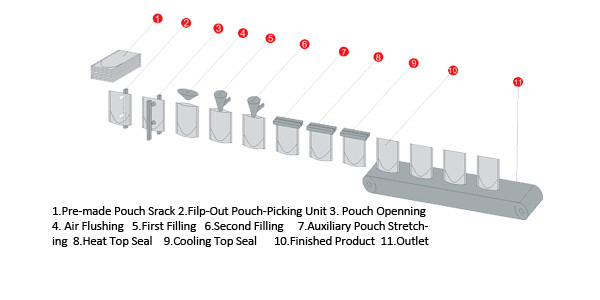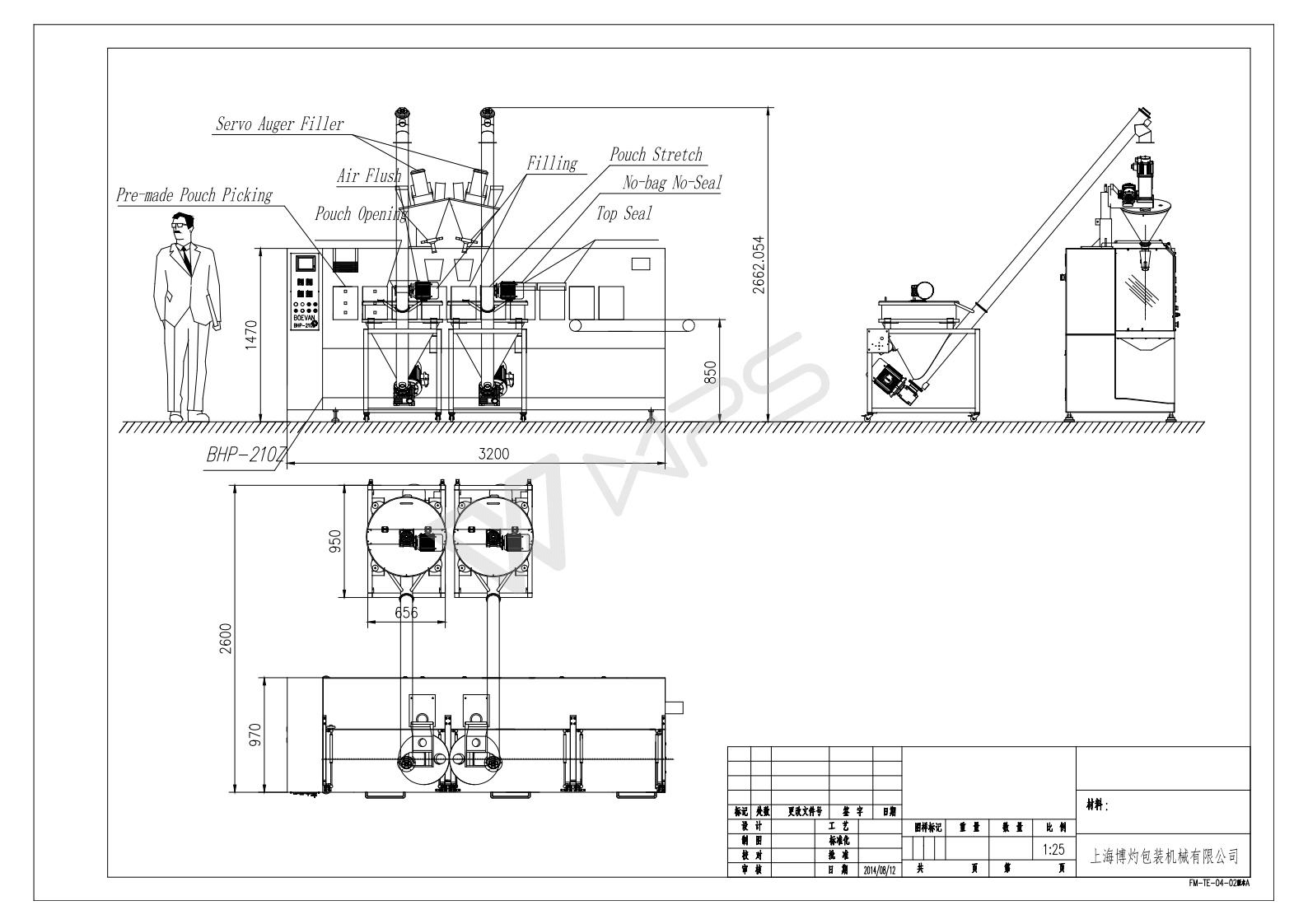 Electrical and Pneumatic Components:
Please specify, if you require specified vendor to electrical and pneumatic components. If not, we will use our default vendor. You may ask us for our default vendor list.
Please note that cost may increase, if specified vendor is selected.

| | |
| --- | --- |
| Main Components | Vendor |
| PLC | Allan Bradley USA/Siemens/Mitsubishi |
| Touch Screen | Allan Bradley USA/Siemens/Mitsubishi |
| Inverter | Siemens/Mitsubishi Japan |
| Servo Motor | Siemens/Panasonic Japan |
| Photocell | Autonics Korea |
| Main Motor | ABB Switzerland |
| Pneumatic Parts | Festo German/SMC/CAMOZZ |
| Vacuum Generator | Festo German/SMC/CAMOZZ |
Date code printer

Straight Line Cut with easy tear

Hole punching device

Auger screw Filler(for powder)

Volumetric Cup Filler(for granule)

Electrical Gear Pump(for liquid)

Piston Pump(for liquid or cream)

This machine is designed for pre-made pouch machine, it can do automatic filling, sealing of doypack, flat pouch.
Flexible to fill and pack various product such as powder, liquid ,viscous liquid, granule, tablet , solid ,candy, stick product. Hundres machines already served in Food, beverage, cosmetics, personal care, household, chemicals and pharmaceutical industry,such as pet food,cashew, nut, chocolate, sweet candy, dried fruit, milk powder, snack, dried mango, orange juice, washing powder, laundry detergent, almond, peanut, salt, spice, seeds, mask, dry powder, coffee, tomato paste, honey, jelly and more.

Mayonnaise & Sauce, Tomato Ketchup, Candy & Chocolate, Snack, Milk Powder, Oil Product, Dairy Food, Spices & Seasoning, Pet Food, Honey and so on.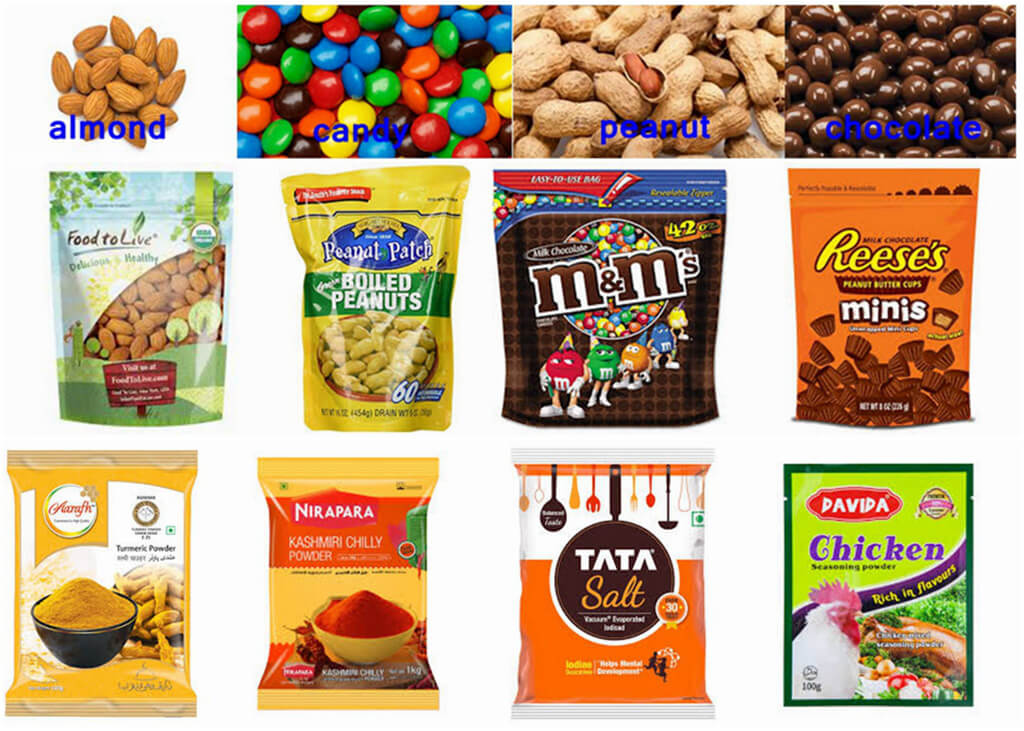 Coffee & Tea, Powder Drink, Water Product, Yoghurt & Liquid Milk, Fruit Juice, Beer & Liquor, Nutritional Beverages and so on.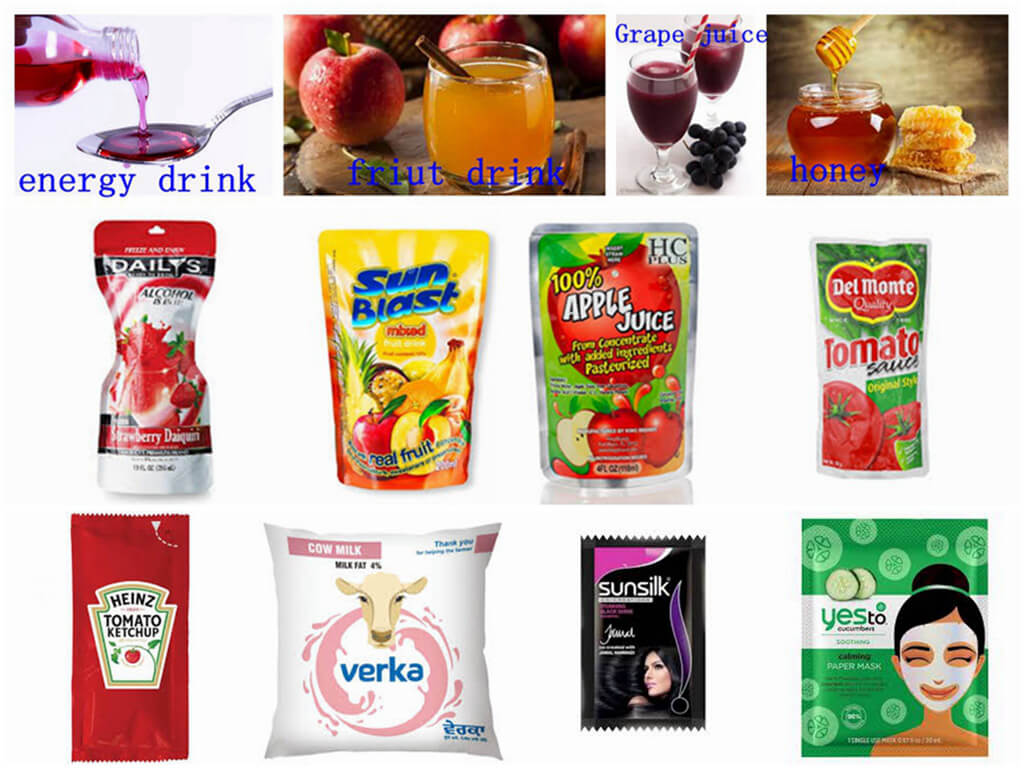 3. Cosmetics & Personal Care
Skin Care, Hair Care, Sun Care, Baby Care, Oral Care, Bath & Shower, Cream, Toweletters, Perfumery and so on.
Dishwash Product, Detergent, Laundry Product, Fabric Softener, Floor Cleaner, Air Freshener and so on.
Agrichemical, adhesive, Lubricant, Paint and so on.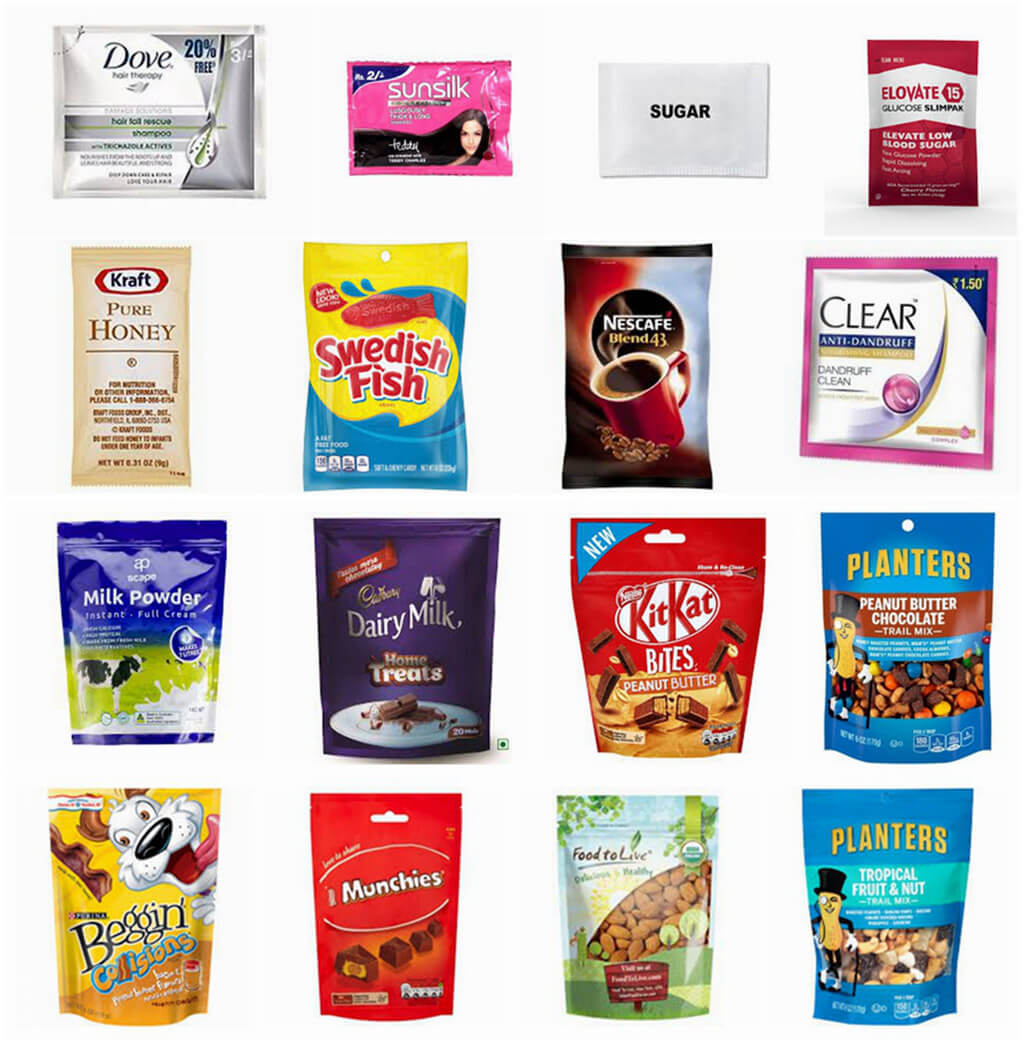 Feedback form contact with us