Tomato paste sauce Ketchup Spout Pouch Packing Machine
Tomato paste sauce Ketchup Spout Pouch Packing Machine
This series packaging machine is a fully-automatic packing machine for standup pouch with spout packing. It can pack any liquid such as juice, yogurt, water, jelly, soymilk, cooking oil, liquid soap etc. Also used for the semi-fluid, such as tomato sauce and fruit jam etc.

PRODUCT DETAIL

PACKAGE PROCESS

PRODUCT APPLICATION
| | | | | |
| --- | --- | --- | --- | --- |
| Model | Pouch width | Pouch length | Filling capacity | Speed |
| BHD-180SC | 90-180mm | 110-250mm | 1000ml | 40-60ppm |
| BHD-240SC | 100-240mm | 120-320mm | 1500ml | 40-60ppm |
| BHD-280DSC | 90-140mm | 110-250mm | 600ml | 90-120ppm |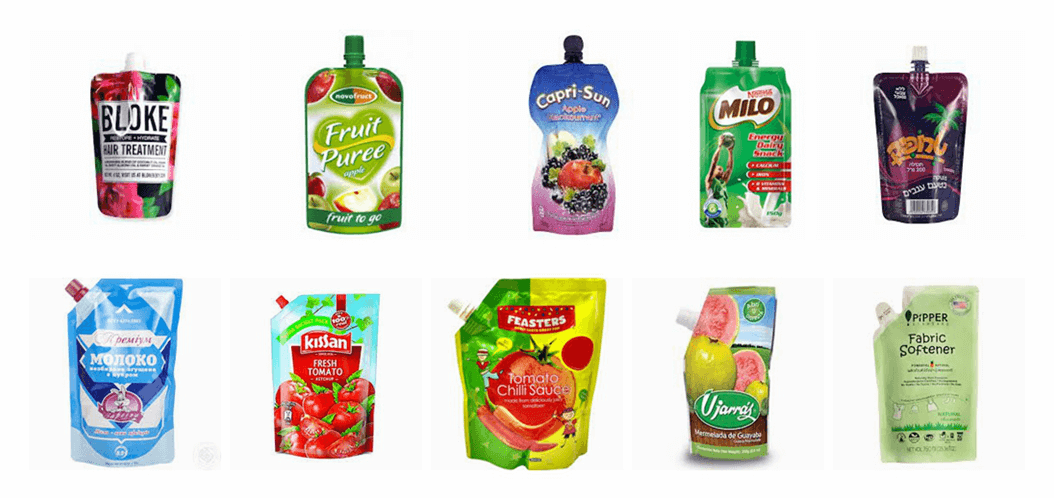 1.adopt stepless vibrating feeding system to make products flow more fluently
2.Weigh a variety of different materials at the same time to achieve the packaging of the mixture3.Parameter can be freely adjusted according to production
3.Intelligent multi-sampling stable mode,higher accuracy
4.Intelligent alarm diagnosis
5.High speed filling funtion
6.Modular and CAN bus technology,more efficient and stable
7.Modbus industry communication protocol


We have standard configuration for general industry, also we can customize special configuration for you.
1.Control System: PLC programmable computer controller , touch screen, photocell sensor, encoder and inverter with high integration guarantee reliable operation.
2.Advanced photoelectric sensor tracking system and servo motor puller for precise bag width and position of film.
3.Independent digital temperature controller for vertical and horizontal sealing, intuitive and accurate.
4.easy and fast adjustment of change over, smooth performance and low noise, perfect package appearance, Sensible safety device and no pollution during production.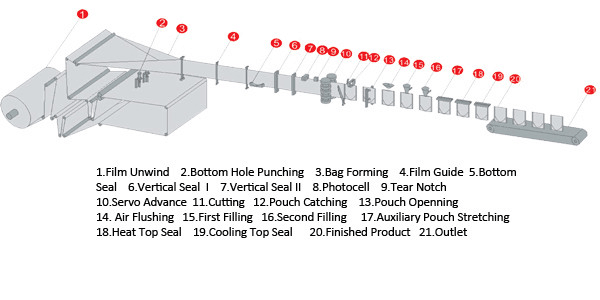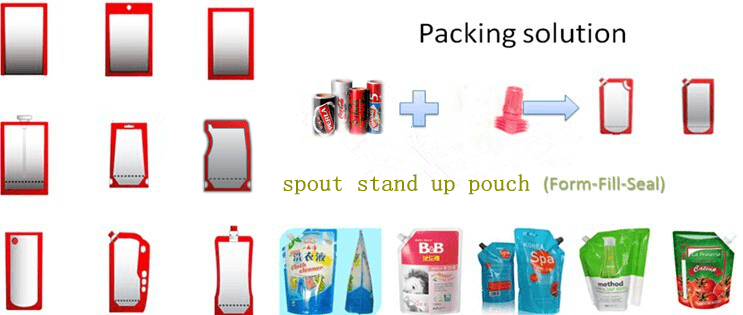 Electrical and Pneumatic Components:
Please specify, if you require specified vendor to electrical and pneumatic components. If not, we will use our default vendor. You may ask us for our default vendor list.
Please note that cost may increase, if specified vendor is selected.

| | |
| --- | --- |
| Main Components | Vendor |
| PLC | Allan Bradley USA/Siemens/Mitsubishi |
| Touch Screen | Allan Bradley USA/Siemens/Mitsubishi |
| Inverter | Siemens/Mitsubishi Japan |
| Servo Motor | Siemens/Panasonic Japan |
| Photocell | Autonics Korea |
| Main Motor | ABB Switzerland |
| Pneumatic Parts | Festo German/SMC/CAMOZZ |
| Vacuum Generator | Festo German/SMC/CAMOZZ |
Date code printer

Straight Line Cut with easy tear

Hole punching device

Auger screw Filler(for powder)

Volumetric Cup Filler(for granule)

Electrical Gear Pump(for liquid)

Piston Pump(for liquid or cream)

This machine is suitable for liquids, sauces, powders and granules. It can pack doypack(standup pouch )with straight and Corner spout,flat pouch with spout.
It is used in a wide range of applications and are suitable for many different industries,such as orange juice,tomato paste,fruit juice,TomatoSauce,Washing Liquid,Milk Beverage,Water,ketchup,peanut ketchup,jam,chili sauce,Juice ,yogurt, Fresh Milk, Chili Sauce,Viscosity Paste,Viscosity,oil,Mango Juice ,fruit powder,spice,chili powder and more.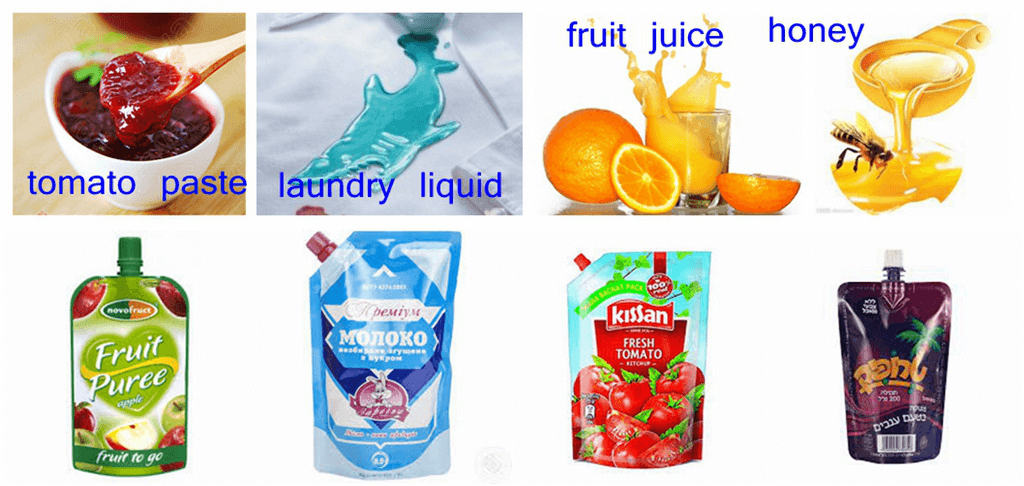 Suitable for packing for various kinds of powder,such as Solid beverage,white sugar,glucose,chicken essence etc.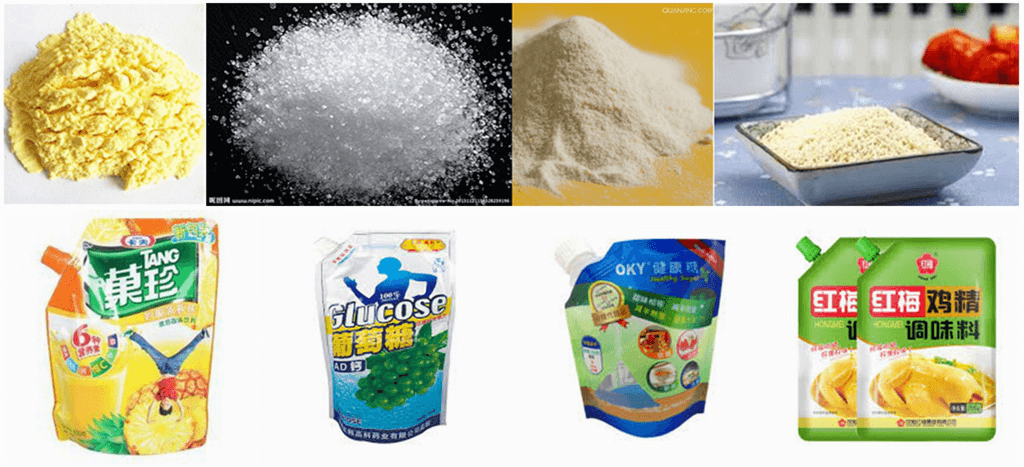 Feedback form contact with us